Fusion Gates is the only safety gate that has been featured in three major consumer media categories: home decor, baby and pet including...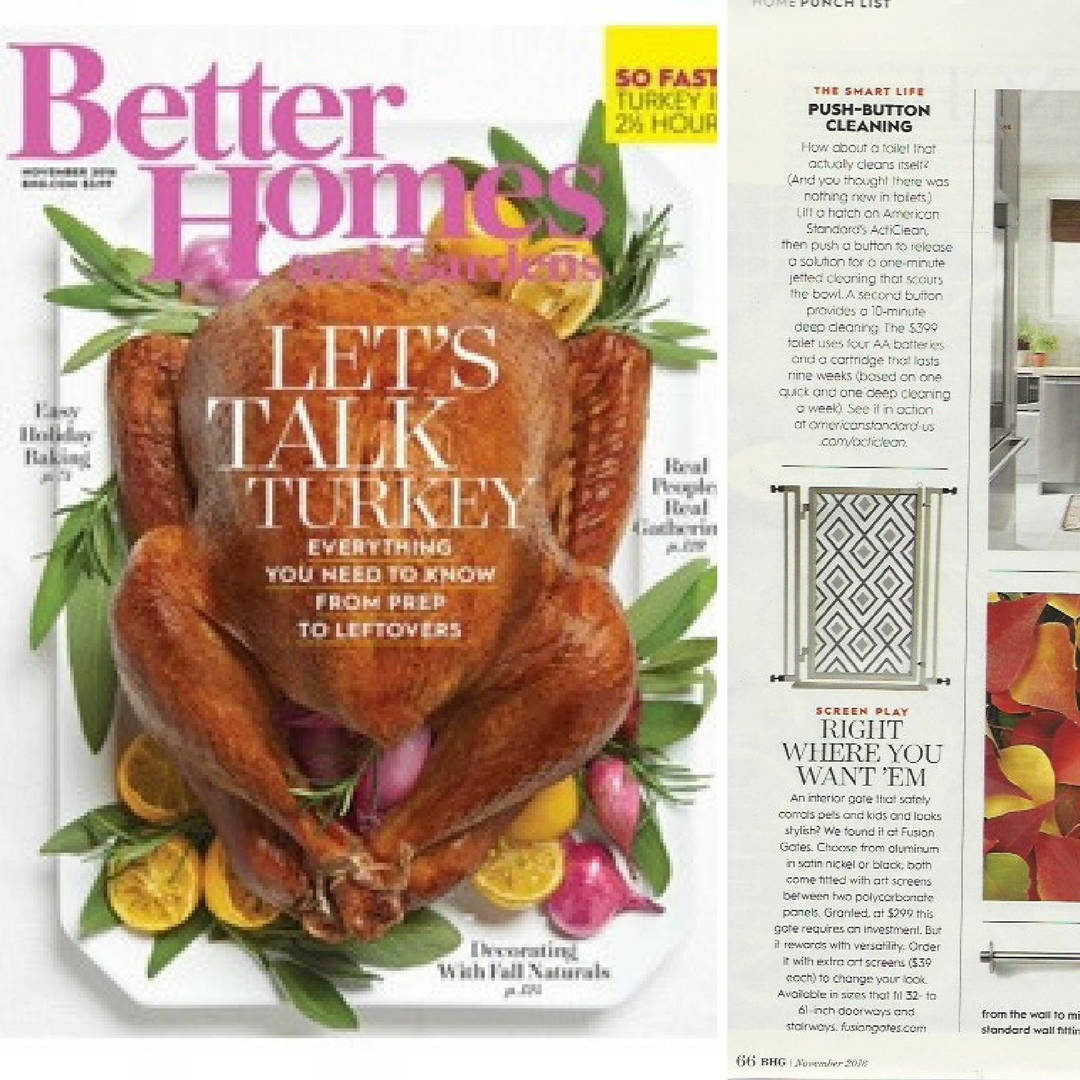 Included in Better Homes and Garden's Punch List
SCREEN PLAY - Right Where You Want 'Em
An interior gate that safely corrals pets and kids and looks stylish! We found it at Fusion Gates. Choose from aluminum in satin nickel or black; both come fitted with art screens between two polycarbonate panels...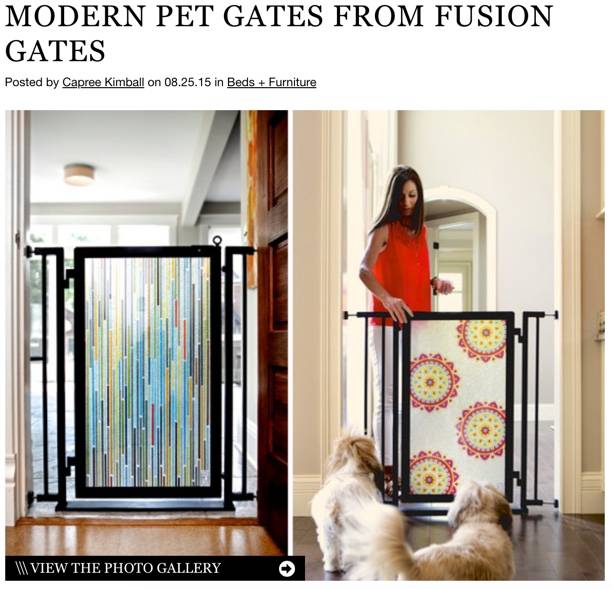 For many pup parents, pet gates are a necessary part of life. Unfortunately, they also tend to be completely hideous. Enter Fusion Gates to the rescue! This unique pet gate is a premium alternative to vertical bars and mesh barricades, and features a patented interchangeable art screen system that allows pet owners to choose and change the look of their gate to complement their personal style. READ MORE
This one-finger latch safety gate adds to your home's decor and keeps your baby safe from getting into harmful situations. What's really cool about this baby gate is that it's not just a gate. It's a decorative item for your home! The gate has an interchangeable art screen. There are many prints to choose from, too. READ MORE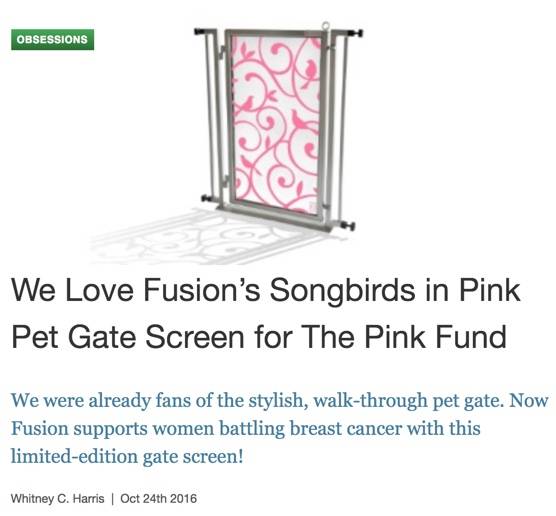 When Rover doesn't get the run of the house, a reliable gate is as good as gold. But this new design by Fusion Gate comes in pink for Breast Cancer Awareness Month. Part of the American Pet Products Association (APPA), Fusion is partnering with The Pink Fund to offer a special, limited-edition art screen. It's called Songbirds in Pink ($299) and is intended to support women battling breast cancer. READ MORE

...Potter says she looked all over for a stylish pet gate. "I was researching and researching and realized nothing was out there at the time." So she sketched one out. "I drew all my renovations, so I thought I'd just draw this gate." She had her home builder make the first one, for her own home. She liked it so much and saw the need for something like this in the market, she decided to take a stab at selling them. READ MORE
Pet Product News International
Pet ownders shouldn't have to sacrifice beauty and style in their home when containing, entertaining or comforting a pet. Fusion Gates are premium dual-mounted pressure gates engineered for safety, but designed as a work of art, framed in lightweight durable aluminum with translucent polycarbonate panels that showcase interchangeable art screens.  READ MORE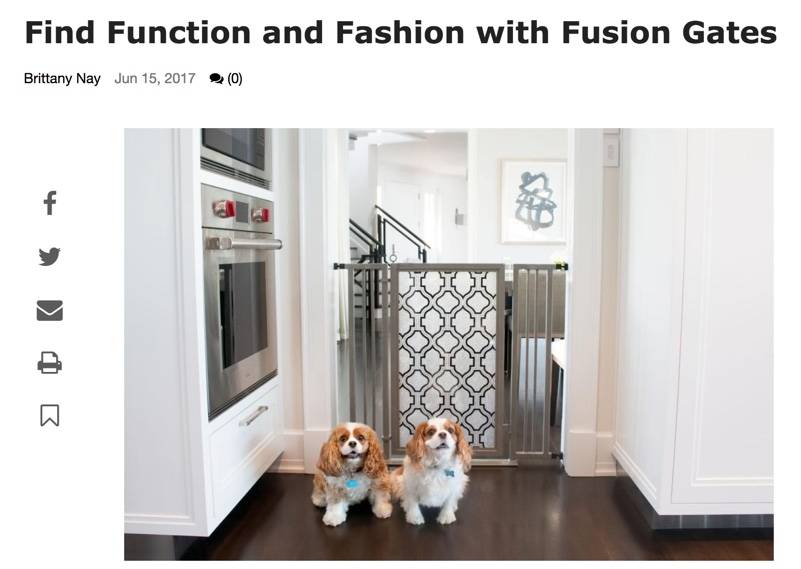 When Donna Potter was mothering a household filled with four young kids and two dogs, she needed a safe way to protect every member of her family, as well as her luxuriously renovated 19th-century Victorian home.
As a result, the Edwardsville, Illinois, mother set out on a search for functional – and attractive – baby and pet gates, but she came up empty-handed. Although the roadblock was frustrating, it sparked an idea. "I designed a see-through gate and had my builder construct it," Potter says. "I fell in love with the idea." READ MORE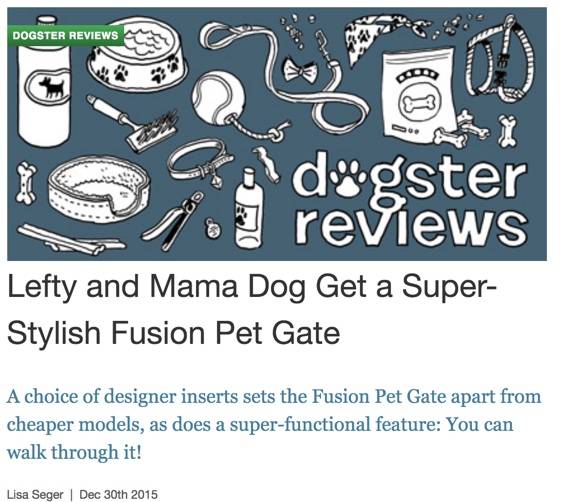 ...But then we heard about Fusion Gates. And got the chance to test one. And — this is not an understatement — our lives have been changed. I don't even know where to start with this one. I guess the first thing you need to know about Fusion Gates is the most life-changing feature. They are walk-through gates. WALK THROUGH. READ MORE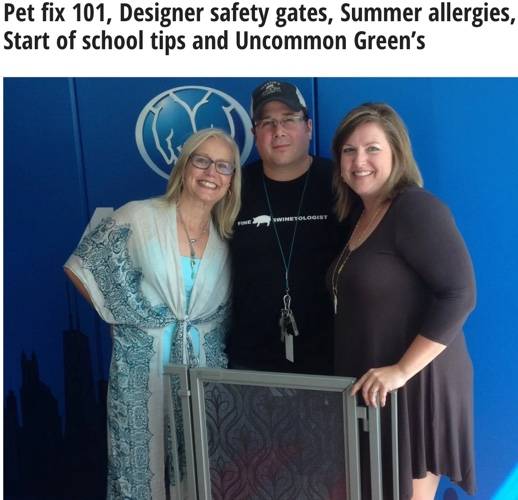 The Frank Fontana Radio Show
Donna and Shelly are special guests of The Frank Fontana Show on WGN-Radio-Chicago.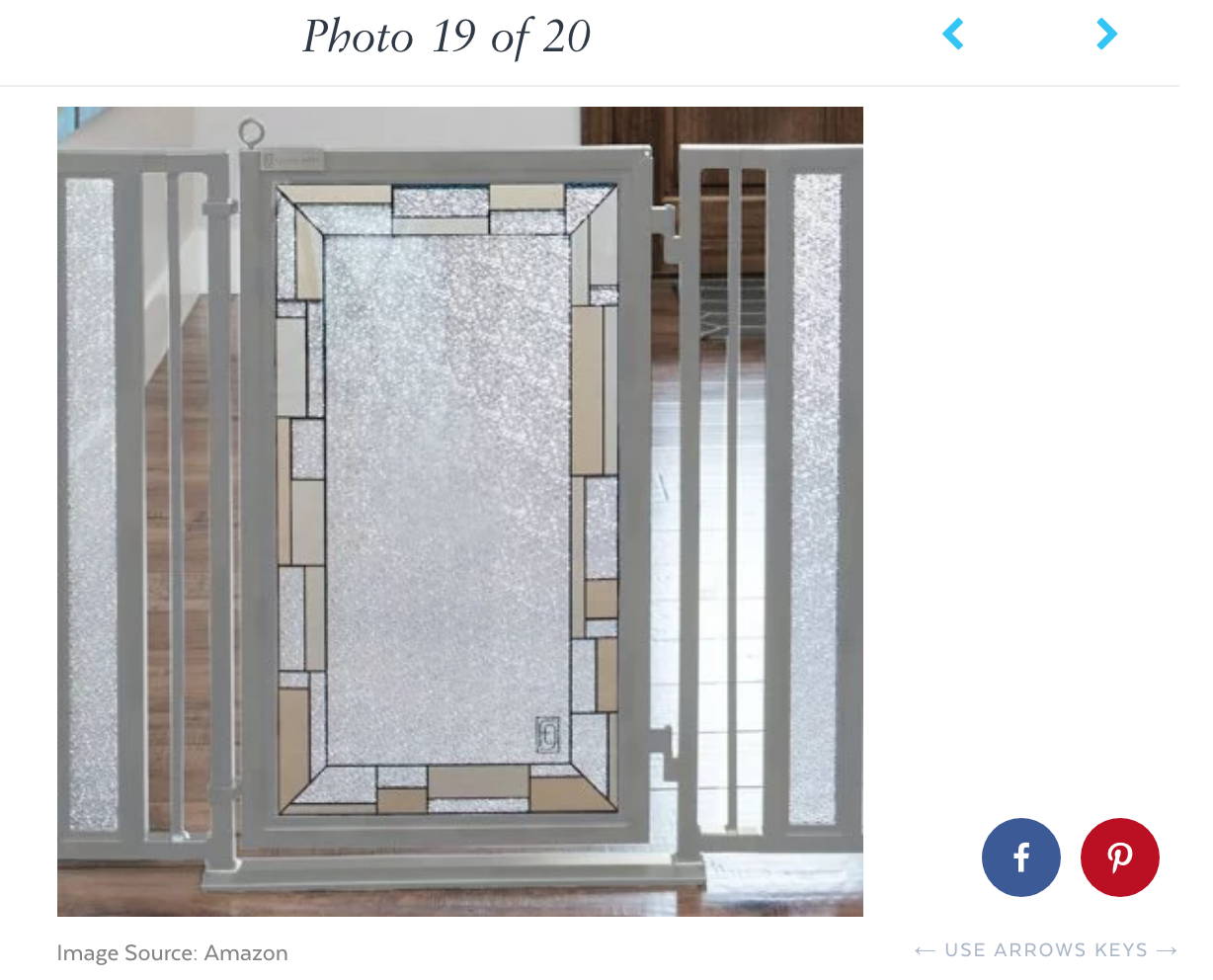 Is your dog trying to get upstairs even though it's "off-limits"? Then Fusion Gates Pet Gate ($249) may be for you. Stylish and modern, this gate seamlessly blends into your home to keep pets where they're supposed to be. See Post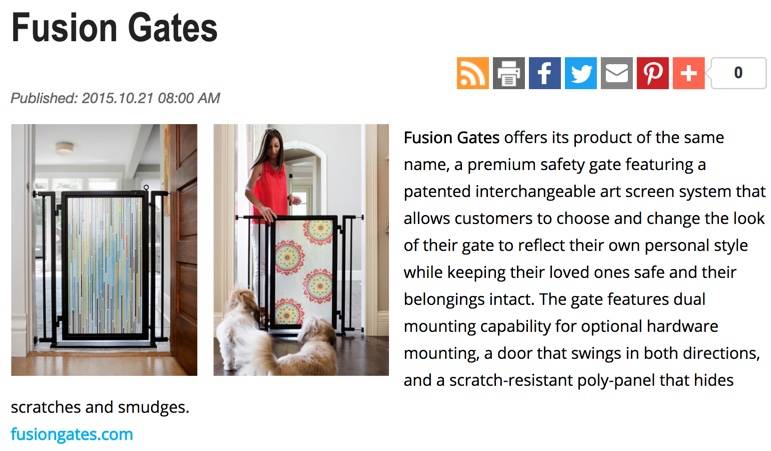 Fusion Gates offers its product of the same name, a premium safety gate featuring a patented interchangeable art screen system that allows customers to choose and change the look of their gate to reflect their own personal style while keeping their loved ones safe and their belongings intact.  READ MORE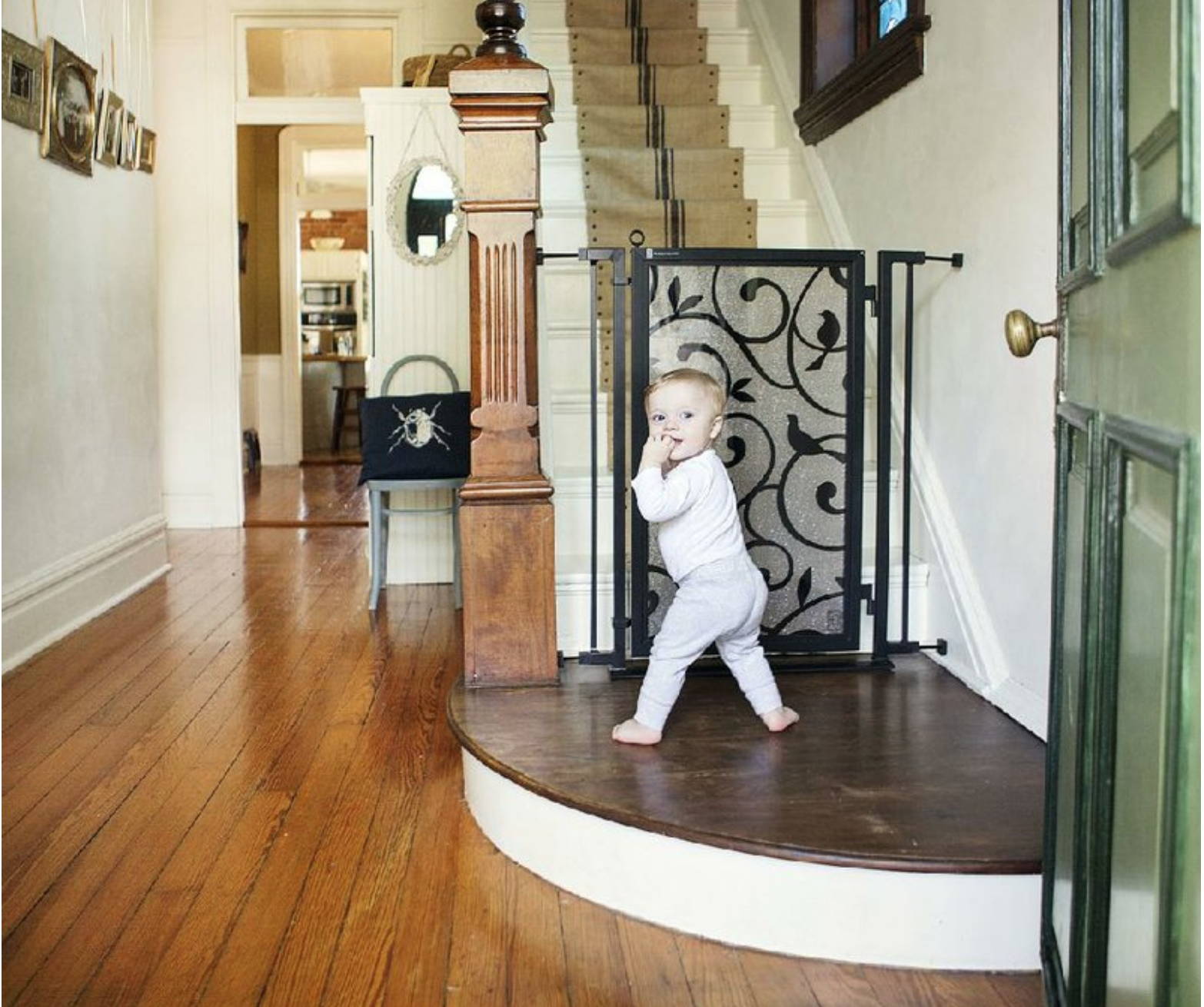 Baby gates have come a long way. Newer gates by companies such as Fusion Gates combine function with style.
It's a headache known to many new parents: Suddenly, your stylish abode morphs into a menagerie of outlet covers and cabinet locks.
While the phrases "baby-proofing" and "kid-friendly" rarely conjure up images of elegance or sophistication, recent years have seen a range of more modern and stylish products available to those who want them. READ MORE
Looking to do a story about Fusion Gates? Give us a call at 618 650 9170 or email Shelly at shelly@fusiongates.com for details.